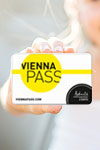 Vienna Pass
Prix dès € 80.60
Save money and skip the line with The Vienna Pass! The Vienna Pass is a sightseeing city card which provides you with free entry to over 60 top attractions, museums, and monuments in Vienna.

Highlights:
- Visit Vienna's most popular attractions
- Don't waste time standing in line
- Choose between a 1, 2, 3 or 6-day pass
- Experience the highlights of Vienna
- Explore Vienna with the Hop-On Hop-Off buses
- Add a travelcard to your Vienna Pass and travel unlimited
- Get a free Vienna Pass bonus booklet with discounts

Save Time and Money with the Vienna Pass

The Vienna Pass is a new, all-inclusive sightseeing card that allows you to explore the beautiful city.
The Vienna Pass gives its holder free access to Vienna's greatest sights, such as Schönbrunn Palace and Schönbrunn Zoo, the Giant Ferris Wheel, the Spanish Riding School, the Albertina museum, and many
others.
You also get Fast Track access to several of the attractions.
It also includes unlimited travel on the Hop-On Hop-Off buses which are
the perfect way to get from one of the many Vienna Pass sights to the next.
If you would like to include free public transportation, you should add the travelcard to your purchase and get unlimited travel within
Vienna's public transport network
(Zone 100) and then you can use the tube, bus, tram & urban railway (S-Bahn).
How do I get my tickets?
Shortly after your booking is completed your e-ticket will be sent directly to your email address. Just print it out and bring it with you to Vienna.
Where do I collect my Vienna Pass?

Go to the
Vienna Pass C
ustomer S
ervice
Center at Opernpassage (the opera passage) near the Vienna State Opera to exchange your e-ticket for your Vienna Pass.
How long is my Vienna Pass valid?

You can choose between 1, 2, 3 or 6 consecutive days. The days count from the
first entry at an attraction or the first ride in the Hop-On Hop-Off buses.

How much can I travel with my travelcard?
If you add a travelcard, you get unlimited travel with

Vienna's public transport network

(Zone 100) which includes all of Vienna by tube, bus, tram & urban railway (S-Bahn).

Can I use my travel card to/from the airport?
No,
transportation to and
from the Vienna airport is not included in the Vienna Pass with travelcard.
How long is my travelcard valid?
If you opt for a travelcard, it is valid for 24h (1-day pass), 48h (2-day pass), 72h (3-day pass) and 2x72h (6-day pass) will not become validated until you stamp it at a blue machine at one of the tube stations, buses or
trams.
Are there children's Vienna Pass?
No, the Vienna Pass is not available in a children's version, however, children under the age of 6 get free admission to the all-inclusive offers if accompanied by an adult holding a Vienna Pass.
Vienna Pass Info
Vienna Pass
Pick up your Vienna Pass at the Vienna Pass Customer Service Center at Opernpassage (underground passage) at
the Vienna State Opera.

Info
Vienna Pass
November-March: Monday-Saturday: 10 AM -5 PM; Sunday and public holidays: 10 AM - 3 PM.
April -October: Monday -Saturday: 9:30 AM - 6 PM; Sunday and public holidays: 9:30 AM -3 PM.
Itinéraire
Itinéraire
The closest metro station is: Karlsplatz.



Regardez la carte